NEWS :
- The Doctoriales are back !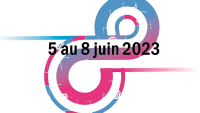 Annual event of national scope, the Doctoriales were initiated by the Ministry of National Education, Higher Education and Research in 1997. A unique opportunity for young Breton researchers to meet with socio-economic and cultural players, this seminar aims to provide training in the creation of innovative companies, to contribute to the development of collaborations with Breton companies and to facilitate the pursuit of PhDs' careers in the dynamics of a sustainable economic and societal transition led in Brittany.
The thematic chosen for this 2023 edition is "Doctors, an asset to act in the face of climate and societal changes", with a desired focus on the theme of low-tech. Find more information on the web page of the Collège doctoral de Bretagne.
The Doctoriales will take place this year from 5 to 8 June 2023 in Logonna-Daoulas near Brest at the nautical centre of Moulin Mer.
Registration is done via Amethis, code "Doctoriales-CDB". In order to validate your application, you must complete the attached letter of commitment, also signed by your thesis director, research unit and doctoral school, and send it to the address "formations-brest-lorient-vannes@doctorat-bretagne.fr".
Closing date for applications is 17 april 2023
---
- The Collège doctoral de Bretagne is offering a new training session on distance learning thesis supervision to HDRs and future HDRs within its scope, starting on 2 February 2023.
This training consists of a conference on February 2, 2023 on the challenges of supervision followed by a presentation of doctoral training by the Collège doctoral de Bretagne. Then two sessions of 8 workshops will be organised at the end of February/beginning of March and in September. The aim of the thematic workshops is to provide participants with concrete tools that can be used with their doctoral students.
You will find the programme of this training by following this link.
Registration closes on 29 January. Registration for the morning session and the first training session by following this link. Registration for the second session will be possible later.
---
The perimeter of the PhD in Brittany :
The Doctoral College of Brittany is the place for exchanges and decisions between doctoral schools in Brittany to develop the visibility and attractiveness of the doctoral system shared by the 15 higher education and research establishments authorised to award a doctorate in the region.
The Doctoral College of Brittany brings together 13 doctoral schools, shared between the 15 higher education and research establishments based in Brittany.
The doctoral school to which you are attached accompanies you throughout your thesis: from your recruitment to your defence, it oversees the organisation of disciplinary training, the quality of supervision and the organisation of scientific and intellectual exchanges between doctoral students.
To find out more, visit the Collège doctoral de Bretagne website and the doctoral schools website.
RESOURCES